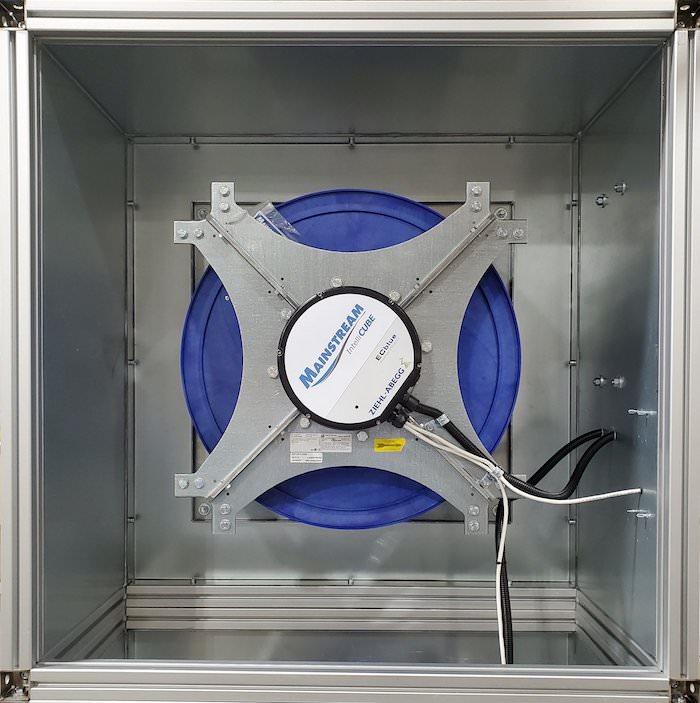 The benefits of EC motors, EC fans and EC fan arrays are significant. Whether you are moving a large or small amount of air to, from, into or out of an AHU, EC fans can help you do it better and more efficiently.
OEM AHU manufacturers are using EC fan arrays in their air handling units and have been seeing great results. And those with AHUs already in place are realizing the unique benefits of upgrading to EC fan arrays, particularly because of their modular design, which makes them easy to transport and assemble.
Ideal for retrofit applications with tight access, or where replacing the entire AHU would be just too big of a project, EC fan arrays provide a reliable solution for a wide variety of situations.
Coil Heat Exchange and Efficiency
One of the lesser-explored benefits of EC Fan Arrays systems is their improved coil heat exchange and efficiency.
Traditional AHUs usually contain 1 or 2 DWDI Fans, typically resulting in substantially non-uniform air velocities and flow across the heat transfer coils. This is especially notable for blow-thru AHUs—to the point that typical installations will include a baffle to attempt to create more even airflow.​
​Although very challenging to quantify, studies have shown that non-uniform air velocities over coils and filters can result in significant performance degradation. The obvious result is that equipment is forced to work harder to achieve the required performance. Anecdotally, installed fan arrays have resulted in a noticeable increase in the performance and efficiency of their chiller cooling systems.
​The fan array design results in a much larger and more even inlet area, and therefore much more even airflow.
Additionally, retrofit fan arrays are much more compact—and therefore can be located at the optimum distance from the heat transfer coils to achieve maximum efficiency.
Air Quality Improvement
Installation of the fan array will often result in increased airflow, which ultimately results in more air changes, and therefore improved air quality for occupants. As is well documented, improved IAQ has numerous benefits—most notably for health and productivity.​
Get in touch to discuss optimizing the airflow in your AHU with an IntelliCUBE Fan Array retrofit.