Expertly-engineered Fans and Coils for Critical Solutions. Our IntelliCUBE fan system is the ideal solution for those responsible for keeping clients comfortable.
Fan Array and Coil Manufacturer
Knowledge, Innovation, and Integrity
Mainstream was founded in the early 90's as a family business in North Jersey, manufacturing coils and other HVAC components. Over the past three decades, Mainstream has grown and evolved into one of the leading manufacturers of custom-engineered Fan Arrays.
We're at the forefront of a quickly-evolving industry, where our innovation and agility have given us an edge. We pride ourselves on our ability to leverage our knowledge and expertise to find solutions for our customer's fan array and coil needs. Our experience includes pioneering low-maintenance fan array parts and systems for a wide variety of different facility types, including critical environments, government facilities, data centers, and more.
We can retrofit your existing AHU or create a custom fan section unit for you.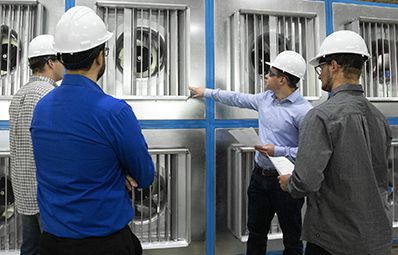 38%
Energy Reduction vs. AC Fans
The Future of Ventilation
Want to know why Mainstream is on the cutting edge of EC fan technology?
Remember these four letters: PMEC.
Also known as Synchronous Reluctance EC technology, these next-generation fans use permanent magnets to achieve full load and partial load efficiencies that surpass what was previously possible.
PMEC fans are:
More efficient than EC and AC

Easily accessible as they do not use rare earth materials
This translates to…
Energy savings costs

Faster shipping time since the product is less susceptible to supply chain disruptions
Mainstream is already utilizing PMEC fans in our arrays and fan sections. We also offer mounted PMEC fan solutions for OEM AHU manufacturers.
If you're moving air, we can help you do it better.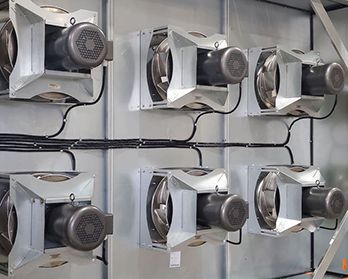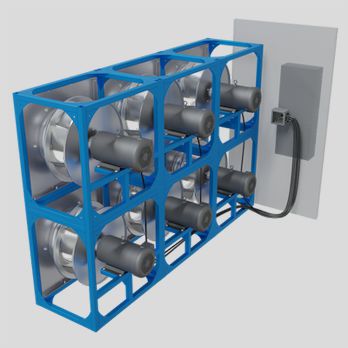 Thank you for the quick turnaround. It is great to know there are companies out there that we can count on.

Hanscom Air Force Base

Utility Systems Operation Supervisor
Thank you so much for your help. The guys were so impressed how the coil was an exact match.

Granite State Plumbing & Heating

Account Manager
I can't imagine a world where every vendor got their stuff back as fast as you do. Thanks a bunch.

Debra-Kuempel

Project Manager
Got it on time! Built with obvious quality! Shipped in perfect condition! We're not used to this but we could get to liking it!

Bailey Refrigeration & Air Conditioning

President
It's been a long time since I've experienced service like the entire Mainstream team provided on this order.

Trotter & Morton

General Manager
If you utilize them, you won't be disappointed, great communication, good customer service, very good product.

Lackland Air Force Base

HVAC Systems Supervisor
Mainstream equipment is built to a very high standard while being competitive in pricing. Staff have been responsive and helpful in making equipment selections and offering solutions to difficult projects.

Cold Spring Harbor Laboratories

Assistant Director of Facilities
Thanks - you guys have been great to work with and all of the coils we get from you guys are RIGHT!

WW Gay Mechanical Contractor

Vice President
We have had no problems at all with the fit of the custom built replacement coils that we have purchased. They have all fit perfectly. Customer service has also been excellent.

USMA West Point NY

AD, IMES Supervisor
I just wanted to let you know that my guys changed out that steam coil last night. They said that the coil was a perfect fit and the swap out could not have gone any better because of that. Thanks for your help!

Lincoln Energy Mechanical Services

Service Manager
The coil fit all of the size requirement challenges we had and installation went very well. Consider us a very happy customer!

Harvard University

Maintenance Supervisor
Looking for effective fan arrays and coils for critical solutions?
Reach out to the experts at Mainstream today.
Contact Us