Are PMEC Fan Arrays right for me?
Many potential HVAC stakeholders can benefit from PMEC fan arrays. PMEC fan arrays offer a wide range of advantages over traditional fan technology. It doesn't take long working with Mainstream and our PMEC fans to understand the merits of the technology.
Here are just a few reasons users become advocates of Mainstream and our PMEC fan array technology:
Fast Quotes with selections made and submittal information
Speed of design, manufacturing, and delivery
Ease of installation
Ease of operation and maintenance
Great customer support and a 2-year Parts & Labor Warranty
Energy savings and cost reduction. High efficiency, especially at partial load.
Redundancy for continuous operations and peace of mind.
AHU OEMs have been using PMEC fan arrays in the air handling units for some time.
This is because their clients demand reliability and efficiency.
PMEC fans allow original equipment air handling unit manufacturers to quickly bring the best technology to market.
Building Owners and Facilities Managers
Building owners love PMEC fan arrays because they see the financial upside to installing green technology.
Even with a slightly higher upfront cost than traditional fan options, building owners can see the long-term benefits of energy-efficient equipment.
Once the fans pay for themselves, typically in 5 years or less, they are making you money with every watt saved.
Consulting & Maintenance Engineers
Colsulting engineers and maintenance engineers understand the benefits of PMEC firsthand. PMEC fans provide them with peace of mind and a reduced workload.
Maintenance workers don't have to change belts or lubricate bearings with direct drive PMEC fans.
If one fan fails, the N+1 redundant design allows the remaining fans to ramp up to meet airflow requirements. The failed fan's backdraft dampers close, prevent backdraft, and engineers can take their time replacing it. Unlike large AC motor, belt-driven fans, a failed fan won't reduce airflow by 25% to 100%.
Why do HVAC mechanical contractors love working with PMEC fan arrays?
Because they are easy to install and lightweight. Many contractors find the installation of Mainstream's PMEC fan arrays to be a breeze.
Mainstream's installation manuals, documents, and world-class support team help ensure a smooth installation.
Mainstream is one of few companies in the HVAC industry that takes its commitment to representatives seriously.
Our team makes it a point to be available, thoroughly answer questions, and provide quick quotes.
Our service doesn't stop there.
We stay involved throughout the process ensuring maintenance teams are educated and prepared.
We understand the struggles of serving as an intermediary between manufacturers and clients. That's why we created a quoting and sales process with this in mind.
Significant HVAC-related energy expenses make them an easy target for energy auditors.
PMEC fan technology offers immense energy savings. Energy auditors often recommend retrofitting AC fan-powered AHUs to PMEC fans.
Switching to this solution takes a significant load off the electrical grid and keeps big money in clients' pockets.
The applications of PMEC motors, PMEC fans, and PMEC fan arrays are endless. PMEC fans can help you move air better and more efficiently.
Big-name AHU OEM manufacturers use PMEC fan arrays in their air handling units and are seeing great results. Those with AHUs already in place realize the unique benefits of upgrading to PMEC fan arrays. Mainly because of their modular design, which makes them easy to transport and assemble.
PMEC fan arrays provide a reliable solution for various situations. From retrofit applications with tight access to applications where replacing an entire AHU is too big of a project.
OEM
PMEC fan arrays are a perfect solution for OEM AHU manufacturers to install in the factory.
PMEC fans meet the demand for more advanced technology with their energy efficiency. Design and assembly are also made easier by their quiet operation, light weight, and modular design.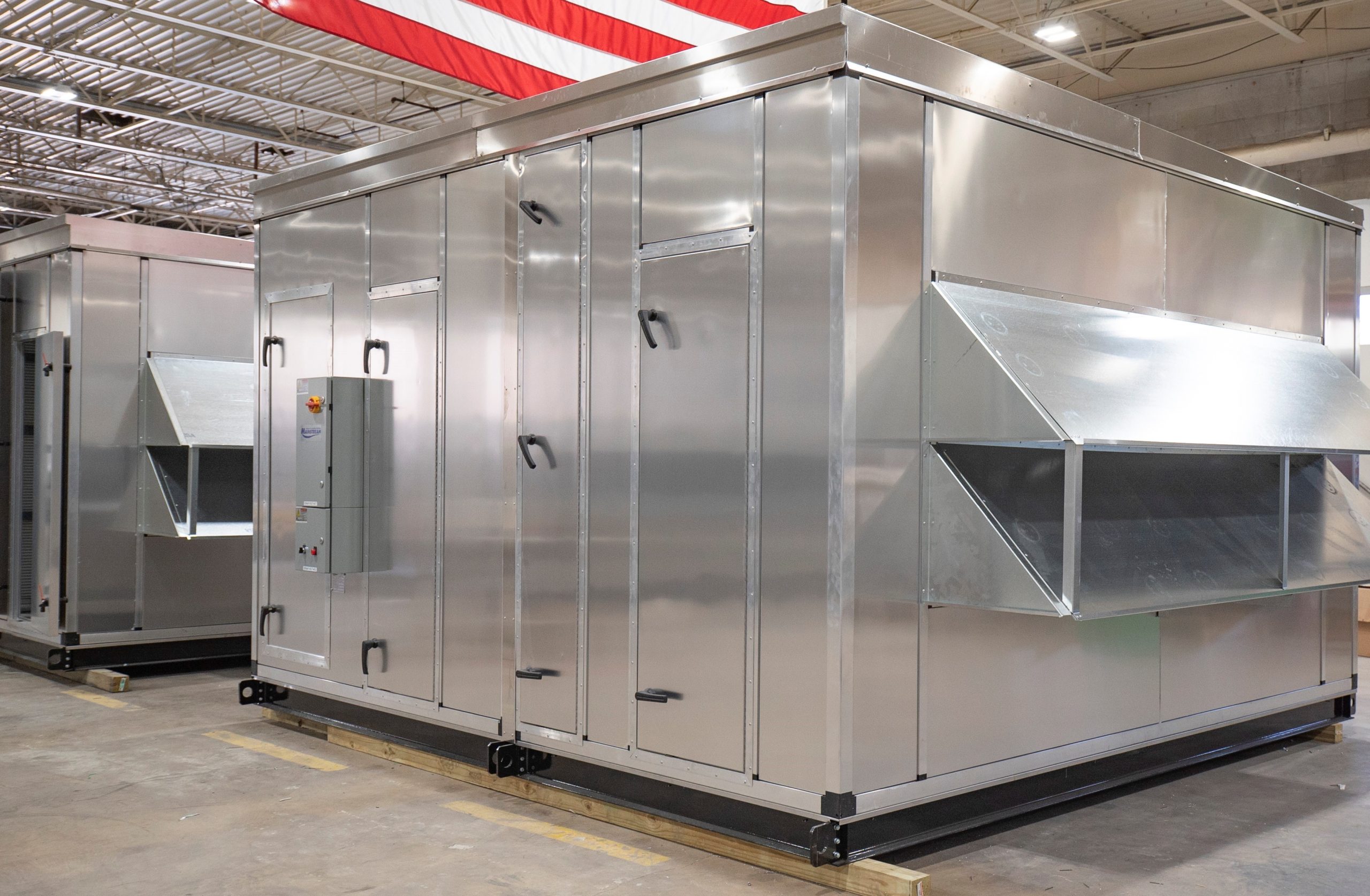 AHUs
Replacing an AHU is a significant expense and a good time to explore improving your HVAC systems. PMEC motor-powered fans are more expensive than AC motor-powered fans, but they have numerous advantages. The energy savings delivered by PMEC fans provide a more cost-effective solution over the system's life.
Fan Systems
A failed or failing fan system does not dictate the replacement of the entire AHU. Many customers opt to replace just the fan section if the remainder of the AHU is in good shape. PMEC fan sections are a great option.
Retrofit
Retrofit is often the best solution when an AHU's fans have failed. Retrofitting AC fan-powered AHUs with efficient PMEC fans is the ideal solution for many customers. It's also more cost-effective and fast! If your AHU and its fan section are in good shape, replacing the entire unit can be more difficult (and costly) than it's worth.
Booster, Exhaust, and Return Fans
PMEC fans serve as excellent booster, exhaust, and return fans. Their small size, light weight, minimal vibration, and quiet operation put PMEC fans in a class all their own.