It can be hard to navigate the HVAC industry without a knowledgeable rep to guide you through it. A good sales team and trustworthy reps will help you feel comfortable making big decisions about your facilities' equipment. Utilizing a manufacturer's representatives provide tremendous value to consumers in local markets. Here are three reasons why Mainstream's reps are some of the best.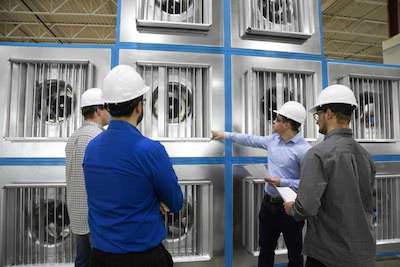 Outstanding Customer Support
Mainstream offers unparalleled customer service to ensure your fan systems run smoothly. Our team is available to provide industry-leading technical support and on-site services when needed. We stand behind our engineering and manufacturing to ensure satisfaction. Our outstanding technical support will have you confident in your decision to upgrade your equipment. Our reps are here every step of the way to make sure you are comfortable and address any concerns you may have.
Don't believe us? Take it from our previous customers!
"It's been a long time since I've experienced service like the entire Mainstream team provided on this order.

General Manager

Trotter & Morton
"If you utilize them, you won't be disappointed, great communication, good customer service, very good product.

HVAC Systems Supervisor

Lackland Air Force Base
"We have had no problems at all with the fit of the custom built replacement coils that we have purchased. They have all fit perfectly. Customer service has also been excellent.

AD, IMES Supervisor

USMA West Point NY
Location
Let us help you find your local rep! Mainstream takes its commitment to representatives very seriously. It can certainly be a struggle serving as an intermediary between manufacturers and clients. As a result, we have created a quoting and sales process with this in mind. Our team is readily available, will thoroughly answer questions, and will provide quick quotes. We stay involved from beginning to end, and ensure maintenance teams are educated and prepared.
Mainstream: Leaders in the Industry
There's a reason why Mainstream (and its reps) are leaders in air handling. Our innovation and agility give us an edge in the industry. We pride ourselves on leveraging our knowledge and expertise to find solutions for our customer's fan array and coil needs. Our experience includes pioneering low-maintenance fan array parts and systems for a wide variety of different facility types, including:
critical environments
government facilities
data centers
and more
We are a leader in the market for engineered fluid and air equipment. By understanding both our customers' needs and the principles that apply to those needs, we provide innovative solutions.