WORLD-WIDE MATERIALS & SUPPLY SHORTAGE HAS NO EFFECT ON MAINSTREAM'S ABILITY TO MEET CUSTOMER DEMAND FOR ENERGY EFFICIENT EC FAN ARRAYS
The COVID-19 Pandemic has affected all manufacturers. Shipments delays and supply shortages are impacting the pricing and availability of nearly everything on the market.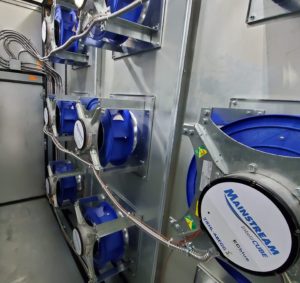 The increased demand for HVAC products and services has left most in the HVAC industry scrambling. Luckily, Mainstream's decision to invest in a well-stocked warehouse earlier this year has been paying off greatly.
Mainstream continues to remain on the cutting edge of EC fans from working with them for over a decade. Mainstream CEO, Jim Markham says that his decision to increase inventory levels was mostly centered around a measurable and growing increase in demand for EC fan systems.
Mainstream's IntelliCUBE EC fan array systems have become the most popular retrofitting solution for commercial and industrial air handlers.
While other suppliers are feeling the stress of running out of product, Mainstream is able to keep up with the demand.
For more information, see the official release.